Contents
1. Introduction
1.1 Description of the module

3. Configuration options
3.1 Content options
3.2 Advanced options

4. The module in practice: tips

The Redicrect module does:
"URL redirection, also called URL forwarding, is a World Wide Web technique for making a web page available under more than one URL address. When a web browser attempts to open a URL that has been redirected, a page with a different URL is opened." For example, http://exemplum.eu is redirected to http://www.ourschool.org/example/.
Source: http://en.wikipedia.org/wiki/URL_redirection. Examples adapted.

The Redirect module has no visible properties. In the demonstration data the module cna be seen in action when clicking on contact in the top links of the Exemplum Primary School. You are redirected to the section School info, on the Mailpage. This demonstrates the redirection. NOTICE:
Adding a module supposes that you have sufficient access permissions to add a page. This is specially important for non-webmasters like pupils and teachers who often have limited permissions. These permissions are set in the Account Manager, most times by the webmaster Wilhelmina Bladergroen.

In the Page Manager, select the Area or section and click on the Add a page link to enter the Add a page dialogue: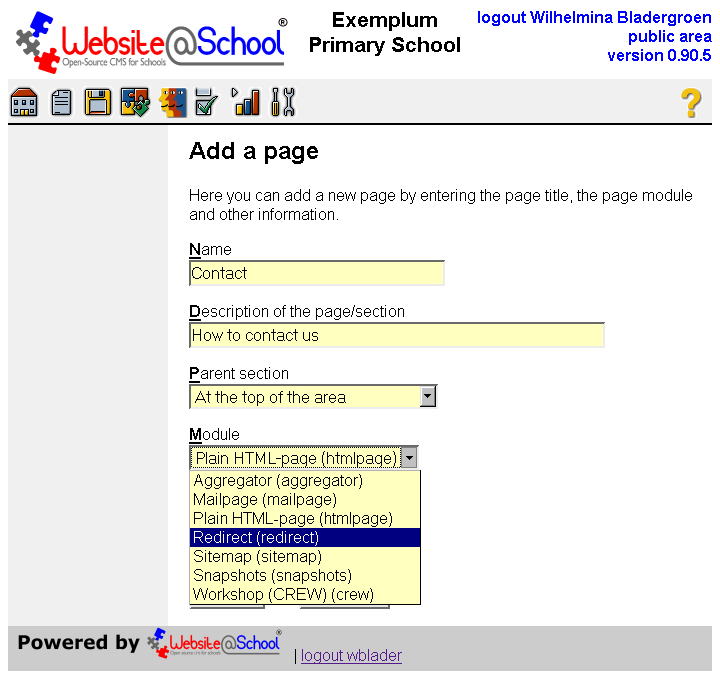 redirect_redirect_module_add.png

Fill out the fields as described in Page Manager, paragraph 3.1 Add a page.
In the Moudle dropdown menu, select the module. Do not forget to select Visible, Hidden or Embargo. Click [Save] to save your work and return to the Page Manager.
Now click on the Page Name to enter the Module Name (modlename) configuration dialogue. In the next paragraph the module will be configured.

The module can be configured in two places. The most important one is the content. In the next paragraph thereafter we will discuss the advanced options To edit the content of the Redirect module, open the Page Manager, click the given Page Name link to open the Redirect configuration dialogue: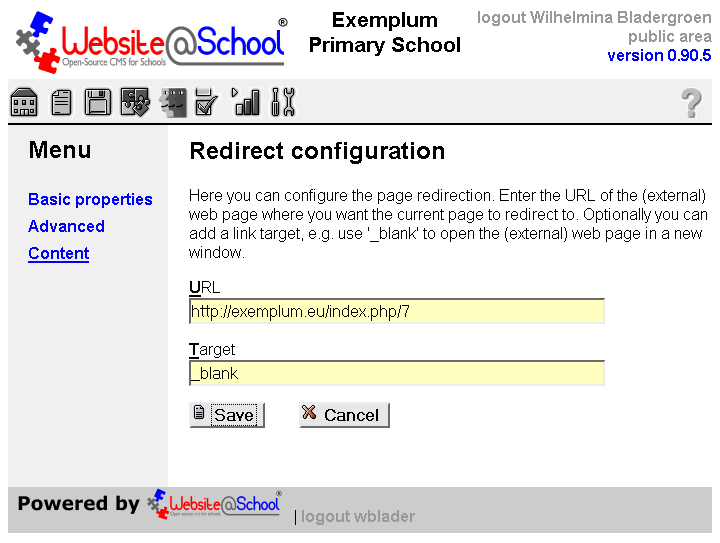 redirect_redirect_content_configure.png

Description:

Redirect configuration
Here you can configure the page redirection. Enter the URL of the (external) web page where you want the current page to redirect to. Optionally you can add a link target, e.g. use '_blank' to open the (external) web page in a new window.

The advanced options also apply to this module. In particular it means that you can use Bazaar Style Style (BSS) to get rid of awfful colors that mismatch with the school site or with the pictures on the page.
More on the backgrounds of BSS can be found in chapter Viewpoints, paragraph 4. On form and content.
More on the practical work can be found in Configuration Manager, paragraph 3.4 Configure theme 'Theme Name' for area n. The other advanced options are discussed in chapter Page Manager, paragraph 3.3 Advanced: edit advanced properties of page nn. Just one: check the URL.

Author: Dirk Schouten <dirk (at) websiteatschool (dot) eu>

Last updated: 2014-09-06